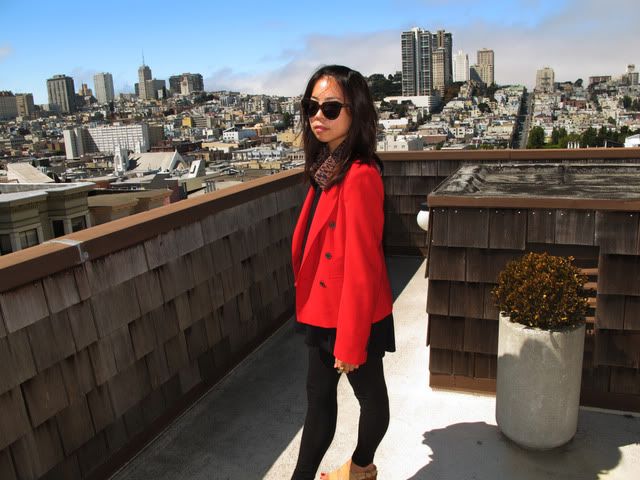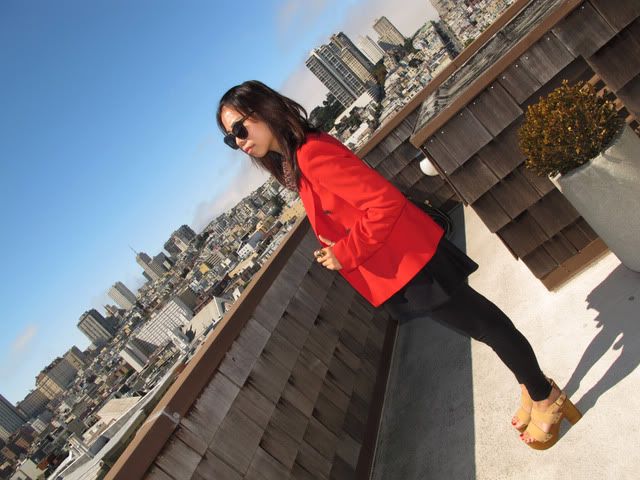 leopard blouse Vintage, black shirt H&M, blazer ZARA, shoes Charles David, sunglasses Karen Walker
i don't believe i've ever met a blazer i didn't love. ask my mother, father, sister, grandmother, first cousins… well, i think you get the point.


the blazer is a staple in my wardrobe all year long. give it to me in leather, silk, cotton or suede…hell, hand one over in PVC. this is one serious relationship, and i don't plan on breaking up anytime soon. i love the blazer, so much that i've even gone as far as sneaking into my father's closet to try on his royal blue vintage blazer…(it has amazing

gold

detailing.) i tried this blazer on three times, on separate occasions, and all three times those shoulder pads swallowed me whole. but for some reason, i believed (still believe) that one day it will fit (like Cinderella's glass slippers) okay, before you judge, can i just stress again?…the

gold

detailing!!

but wait, are we completely overlooking this RED blazer? as a seasoned blazer-wearer, i can honestly say that this is one of those blazers that require the "double take."


at first? overwhelming

at second? YOWZZAAAAHH!


don't forget to mix that touch of leopard (because red and leopard is never too provocative) and if scenery allows, stand in front of a concrete jungle.


now how can you possibly go wrong? oh, that's right, you can't.